Medias
The media loves a winner!
"CatchOfTheDay is Australia's no.1 online department store. The Catch story is a rags to riches one, a real David vs. Goliath."
This is our opening line, and there are lots of stories for Catch to tell. Add to that our younger sister site scoopon.com.au, which has become a leader in an emerging space of daily coupons, and here you have a true Australian ecommerce leading company.
Thanks to Gerry Harvey and his mates, online shopping and ecommerce has grabbed lots of media attention in both pre and post Christmas sales, and people are starting to realise that the internet and the bargains it wields are here to stay.
If you're after a great story with lots of angles to explore like IT, tech, gadgets, the internet, online shopping, successful business, entrepreneurs, start up and the like, there really is no one better in the Australian scene to feature than us. It may sound arrogant, but it's true!
Here are some of the publications that we have been featured in to date: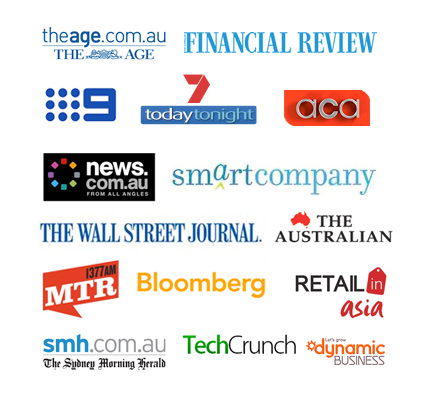 We've been featured many times on TV:

So if you have any media enquiries, please feel free to make contact!
Journalists, Producers, Editors are welcome to contact our PR Agency:
The PR Group:
Melissa Shawyer (03) 9510-8427
Email: melissa@prgroup.com.au
Or contact us directly: press@catchoftheday.com.au