Sheaffer Barrel Chrome Ballpoint - Black
Chrome Plated | Blue Ink
Sold Out
Don't pay $56.60*
$7.57 + p/h
Sheaffer Barrel Chrome Ballpen - Black
Sleek, professional ballpoint pen | Smooth twist action mechanism!
Packaged in a beautiful storage case - great as a gift!
This Sheaffer writing instrument has a sleek, professional profile combined with a fashionable glossy barrel and chrome trim finish for sheer writing pleasure. Impressive by both design and performance, only the quickest (and savviest) of buyers will secure one at this unbelievable price!
Features:
Sheaffer SGC 300 Ballpoint Pen
Comes with elegant hard plastic storage case
Sleek, durable design
Beautifully chrome plated
Twist-action mechanism for simple writing tip release
Ink colour: Blue
Pen colour: Glossy Black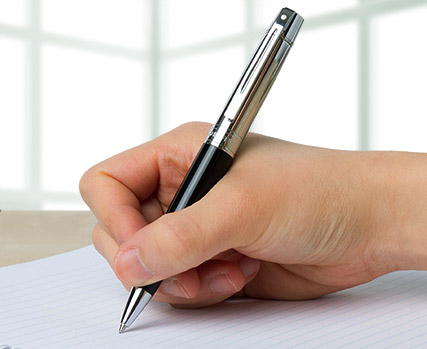 *SRP was supplied by the manufacturer & was accurate as on 12/03/2013.
Sheaffer SGC 300 Ballpoint Pen
Comes with elegant hard plastic storage case
Sleek, durable design
Beautifully chrome plated
Twist-action mechanism for simple writing tip release
Ink colour: Blue
Pen colour: Glossy Black