Get notified when new sales are live
Subscribe to our notifications so you don't miss out on our new sales!
Cadbury
Cadbury Humpty Dumpty Egg 130g
Out of stock. This product has SOLD OUT!
Cadbury Humpty Dumpty Egg 130g
SRP $6.50*, today just $3.50!
With candy-coated beans inside that rattle!
Easter isn't Easter without this guy. Cadbury's Humpty Dumpty egg is a Cadbury Dairy Milk™ hollow egg with candy-coated confectionery beans inside. The beans that rattle when you pick up ol' Humpty is what makes the kids eyes light up. So, get that Easter excitement flowing!
Cadbury Humpty Dumpty egg
130g NET
Smooth Dairy Milk™ chocolate hollow egg
Candy-coated beans inside
Best before: 1 June 2012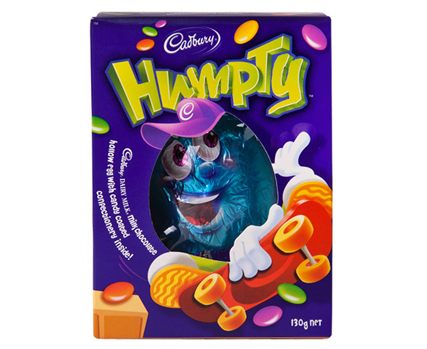 *Price reference sourced from confectionerywarehouse.com.au on 9 March 2012