Get notified when new sales are live
Subscribe to our notifications so you don't miss out on our new sales!
Nested Decorative Wooden Trays 3-Piece Set
Out of stock. This product has SOLD OUT!

Warranty CatchOfTheDay warranty. Learn more
Nested Decorative Wooden Trays 3-Piece Set
SRP $44.95* - today just $12.95! SAVE 71%!
Gorgeous walnut finish on sturdy wooden construction!
Raised edges keep things from sliding away!
Everything you serve up will be in impeccable style! Made from wood with a gorgeous walnut finish, these trays are the decorative way to carry things around! Bring that special someone breakfast in bed, move the teapot from the kitchen to the lounge, or bring up that soup for sick patient! With easy to hold handles and raised edges to keep things from slipping you'll love this rustic tray set!
Features:
Vintage homeware
Nested Decorative Wooden Trays
Colour: Walnut
3 trays made of wood with thin black metal handles
Removable cloth lining for washing
Perfect for carrying tea, breakfast in bed or as decorative bases for candles, pot-pourri & the like
Dimensions:

Small: 22 x 18 x 3cm
Medium: 25.7 x 22 x 3cm
Large: 30 x 25.8 x 3cm

12 Month Warranty Against Defects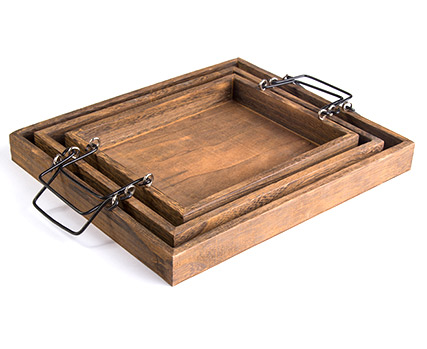 *SRP was provided by the supplier & was accurate as of 02/10/12.